Behind-the-Design: Transformers Quintesson Pit of Judgement Exclusive Pack
We sat down with the masterminds behind the stunning packaging of the Hasbro PulseCon Exclusive: Quintesson Pit of Judgement.
Q: Let's start with introductions. Tell our fans your names and a little bit about what you do at Hasbro.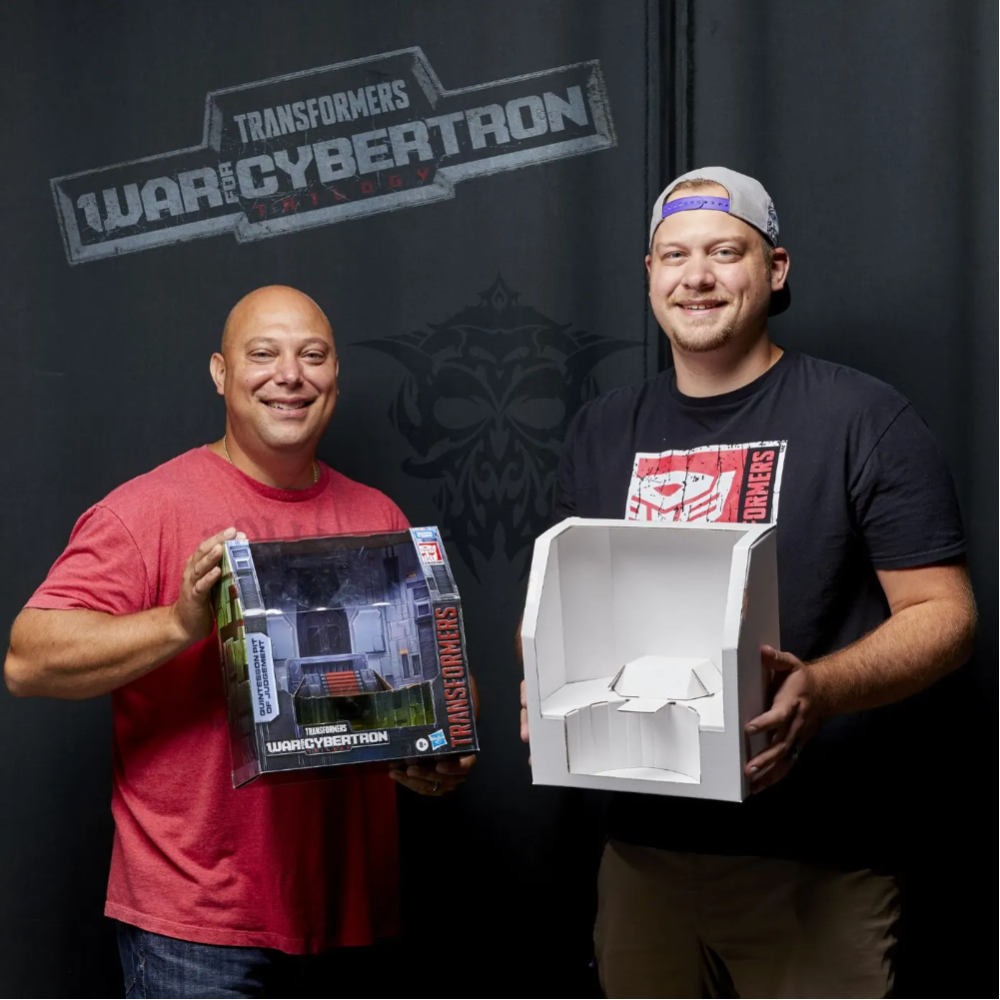 AJ: Hey Pulse Fans! My name is AJ, and I am the packaging engineer on Transformers. I have been working at Hasbro for 6 years, it was actually my first gig out of school. I've worked on many brands, including Equestria Girls, Mr. Potato Head, Yokai Watch, and Mighty Muggs, and have been working on Transformers since the development launch of the War for Cybertron line in 2017 for our late 2018 product.
Mario: Hey guys. I'm Mario and I'm a packaging designer for Transformers. I've been at Hasbro for 11 years. I worked on Marvel for a few years (from Iron Man 2 to the first Avengers movie). Been on Transformers since movie 1. I work primarily on the Generations line, including Studio Series. I'm a huge Transformers fan so I have a lot of fun doing my job. I channel my inner fan (and inner child) every time I work on a pack, thinking about what Easter eggs I can fit in and what art concept fans will most appreciate.
Q: AJ, first, what does a packaging engineer do?
AJ: I make boxes. (laughs) Well, that's the short answer. The longer answer is that a packaging engineer creates the packaging structure for the items they work on. If you imagine taking the graphics off a package, that is what I make, which we call "white boxes". I determine the layout of each of the products that ship and collaborate with our vendors overseas to ensure that the product passes transit testing. For Transformers, I work on all segments from Rescue Bots to Movie Masterpiece.
Specifically for the Pit of Judgement, I helped develop a rough packaging size, which then was refined to a "scene in a box", which was further adjusted to fit existing character models, and finally refined to the final structure representing the iconic scene from the Transformers 1986 movie. I do this using a variety of programs, but mainly my CAD is done in Esko ArtiosCAD and the toy models are pulled in from SolidWorks and placed into an ArtiosCAD 3D folded version of the packaging. This pack was being developed before we had a model for the Quintesson Judge, so I made a quick sizing model that kind of looks like a bulb in a lamp, which I nicknamed the Quint(mess)on.
Wait…those aren't Quintessons, and that's not Kranix!…that's because we had to use existing character models that were similar in shape and size while the figures were still in development, the Quintesson judge was so unique, AJ had to create a stand-in model (Quint(mess)on)
Q: How did you get into packaging engineering? Seems like a very cool, but very specific role.
AJ: When I was in high school, I took a class called Design and Drawing for Production (DDP) which was a CAD class elective. My teacher (shout out to Mr. G!) had us design a package to ship cherry tomatoes in the mail, and our box was basically indestructible. He told me I should look into majoring in packaging. Luckily, I had Rochester Institute of Technology (RIT) basically in my backyard, that I attended and graduated from with a degree in Packaging Science.
Q: So glad Mr. G put you on the right path. So, with this Quintesson pack, or any pack, when does a packaging engineer start working on it?
AJ: A packaging engineer will actually start working while the product is being developed. I get rough sketches from product design to reference. For this pack I actually kept a little concept sketch John Warden scribbled out. That's probably the earliest sketch for the development of this pack. Sometimes the sketches have sizes on them, and sometimes I need to use my best judgement to guess the size. After creating a rough dieline of the package, we send it out for our first quote to see if we are on the right track to create something cool and still be in cost.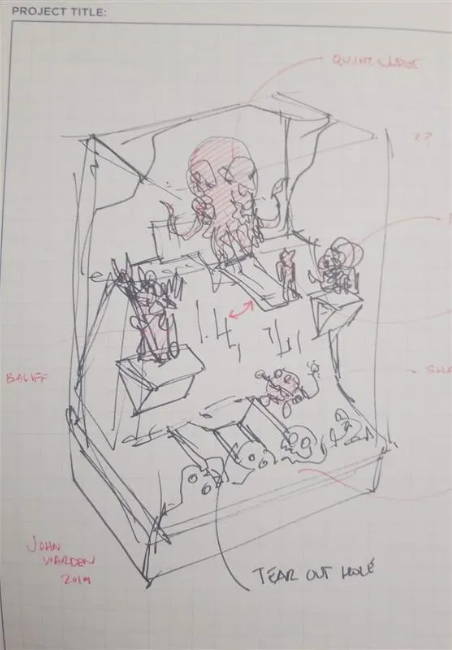 Actual sketch by John Warden in 2019
Q: What is a dieline?
AJ: A dieline is basically the CAD (Computer-Aided Design) of the package when it is folded out flat. You can think of it as a blueprint layout to create a die board at the manufacturing plant.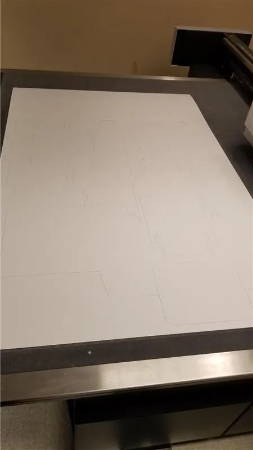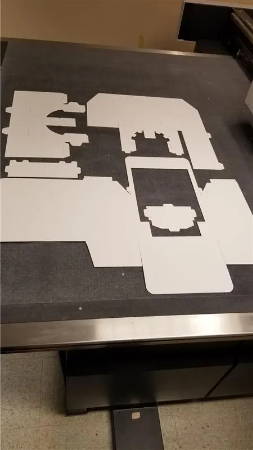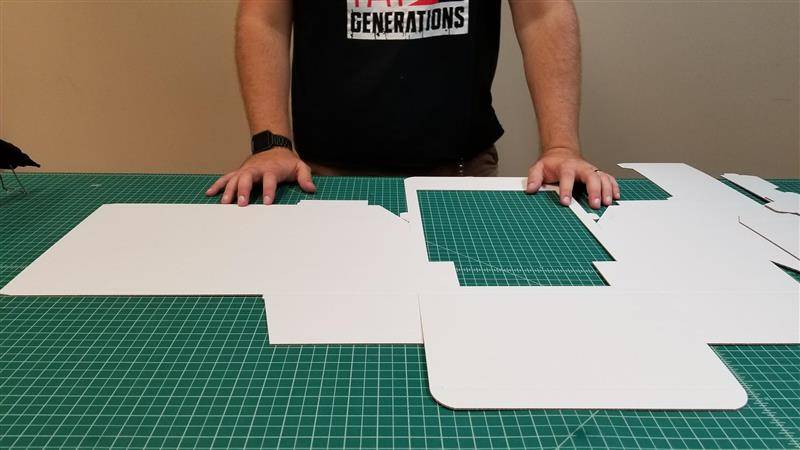 Q: This pack seems to be more intricate than other we see on shelf, why is that?
 AJ: For items like convention exclusives we try and make the packaging a little extra special for the fans. We know that some of our fans are going to keep those items in box so we really want to go the extra mile. For this pack, we really wanted people to be able to re-create the iconic scene from the '86 movie and have a really cool display for all the characters.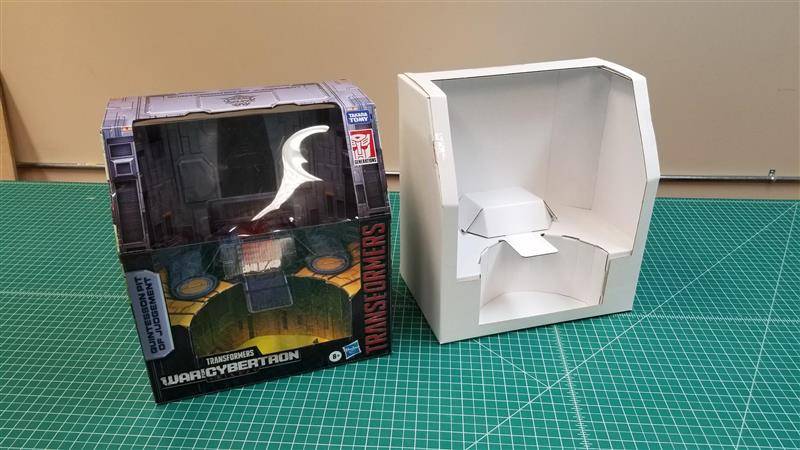 Q: Mario, how far along in the development process does graphic design start working on design of the pack?
Mario: So we have what's called a Packaging Kick-Off (PKO) where the team briefs the product and vision so we can start planning the packaging and graphics execution. We even start to talk about who will be the best person to illustrate and color it based on which figure line it is and based on our overall vision for the pack. At this point AJ has a rough packaging size for me and then eventually he'll hand over the final dieline which becomes my canvas for designing the pack. But we work together from the start on overall concept and bounce ideas around with each other and the product designer.
Q: Where does inspiration for a package come from and what was the inspiration for this pack?
Mario: First, from the toys themselves and then it's about finding a visual that connects them together to tell a story. I always try to find a scene that has impact and means something to the fans.
AJ: Once we knew what the figures were going to be, we knew it had to be the courtroom scene from the 1986 movie. So first thing's first we watched it a dozen times.
Mario: Yeah, and we tried to get the essence. It's not a 1:1 as you see in the movie. We have one view, one angle, one screen shot to capture this whole thing. We will sometimes fantasize it so that within that one scene it's telling the entire story.
Q: What was your process for going from the concept of the courtroom scene to getting the final design of the Quintesson Pit of Judgement pack?
Mario: So there are actually two elements of the pack that represent the scene. There's the front display and also the illustration on the back. Once I got the dieline from AJ I could send it out to a vendor with the concept. First we get the early box concept, which is a rough sketch of how the front display is going to look.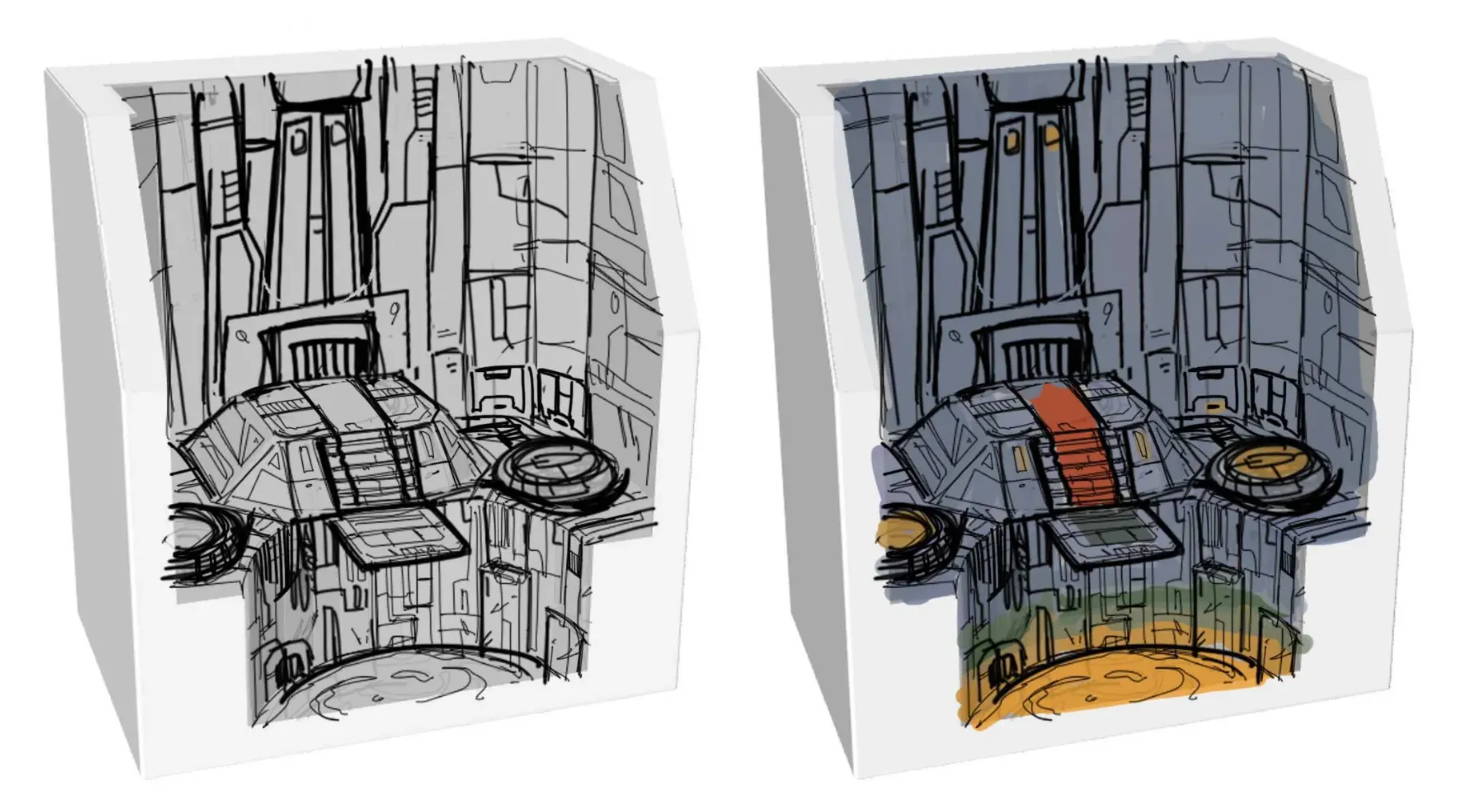 Then comes the ink concept, finalizing all the intricate details. And then comes a rough color and then finally the final art.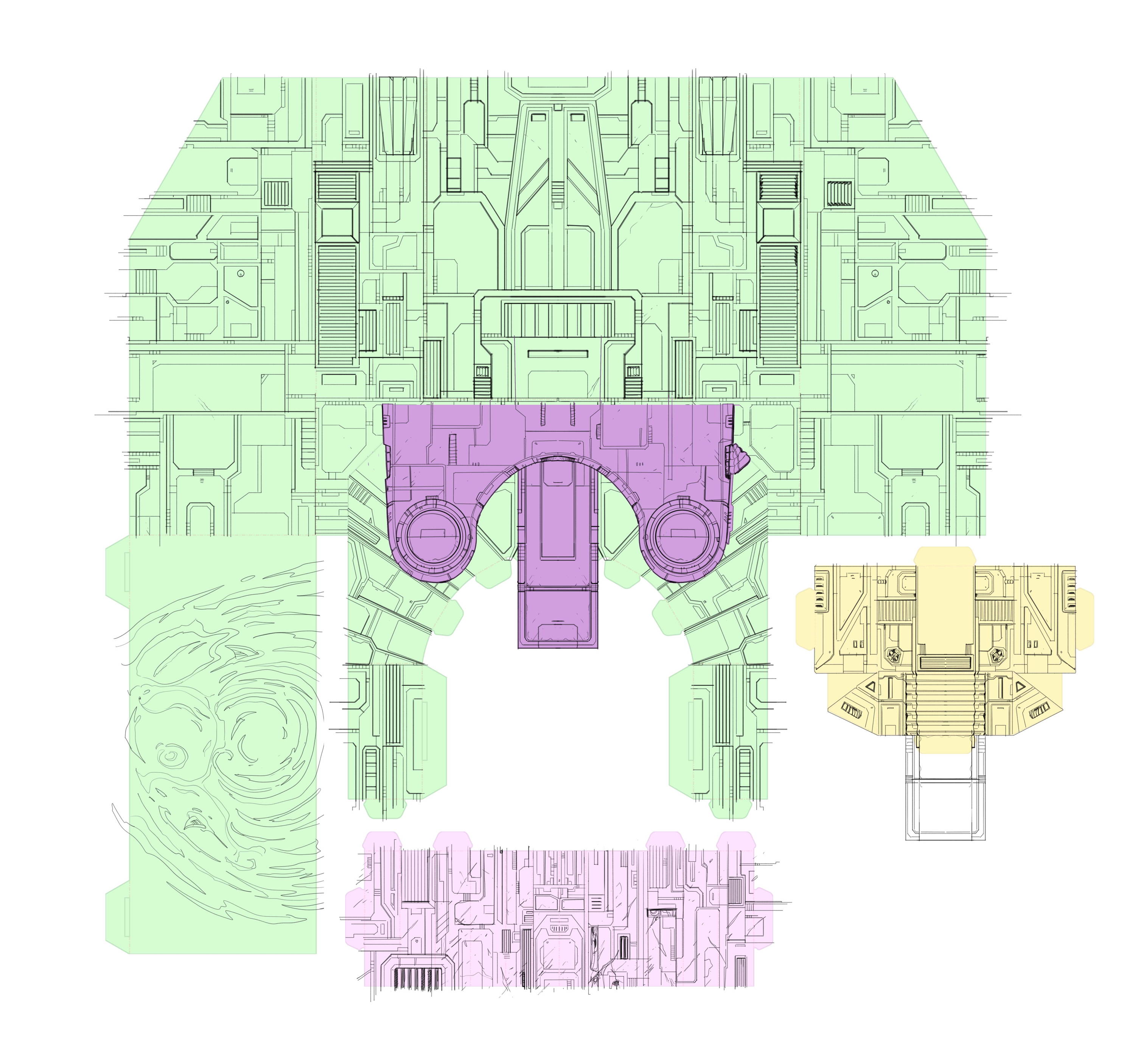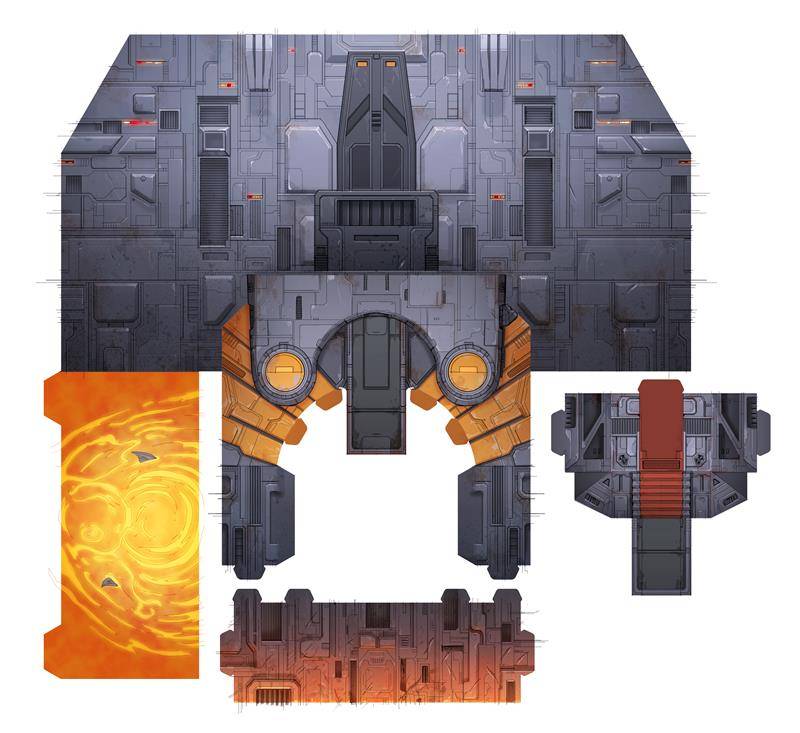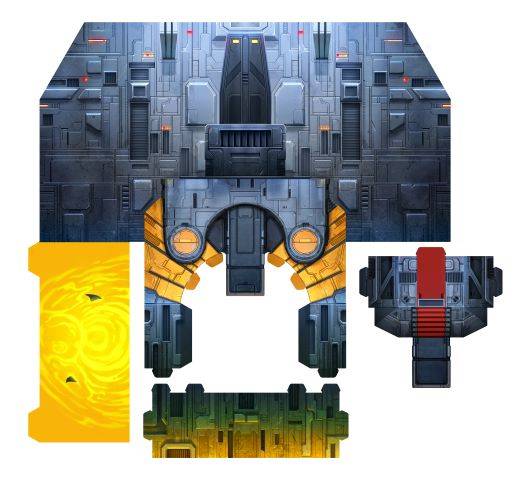 Then for the back-of-pack illustrations it's a very similar process. We sent the illustrator a screenshot of the scene for inspiration. We wanted as much captured in one shot as possible so we went through a couple sketches to find the one that worked the best. We went back and forth with the illustrator, marking up the sketches with notes.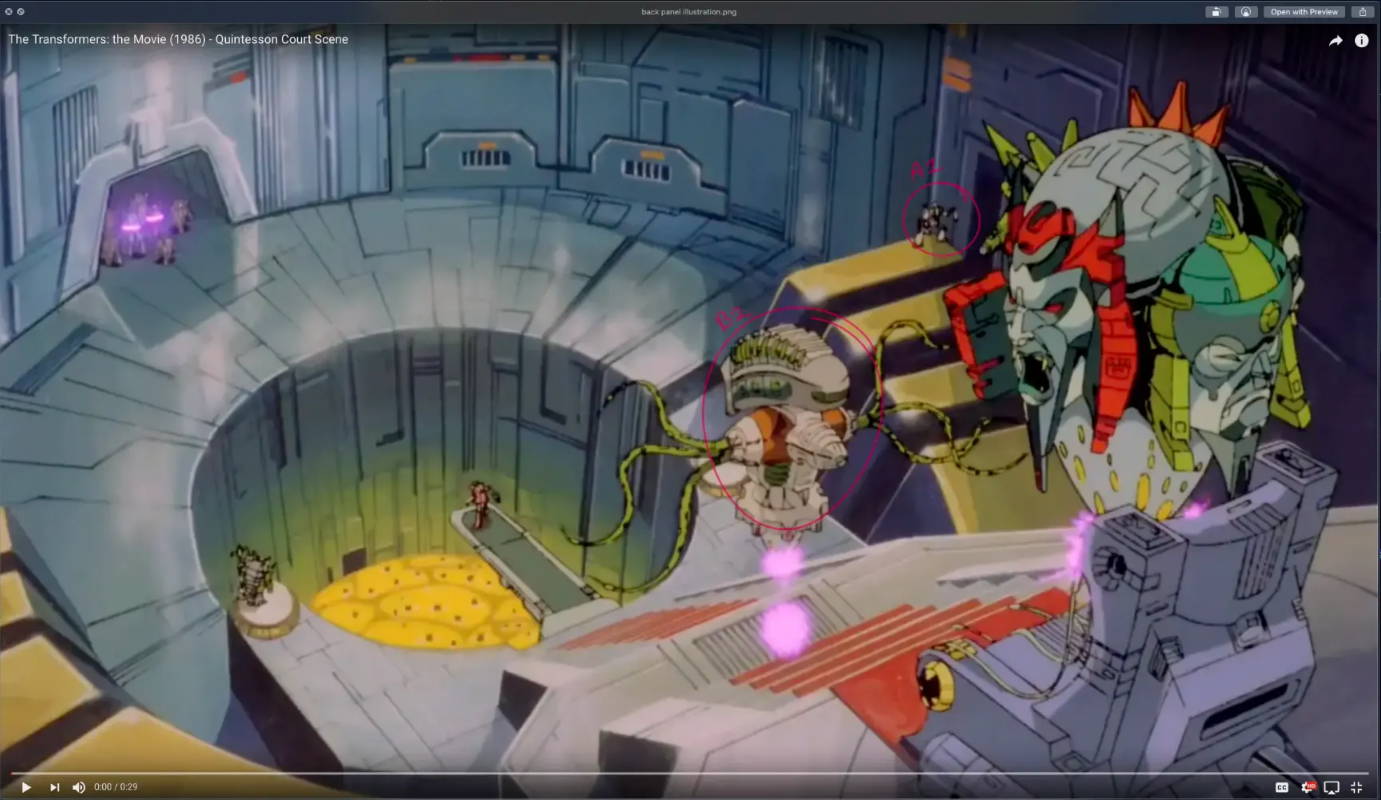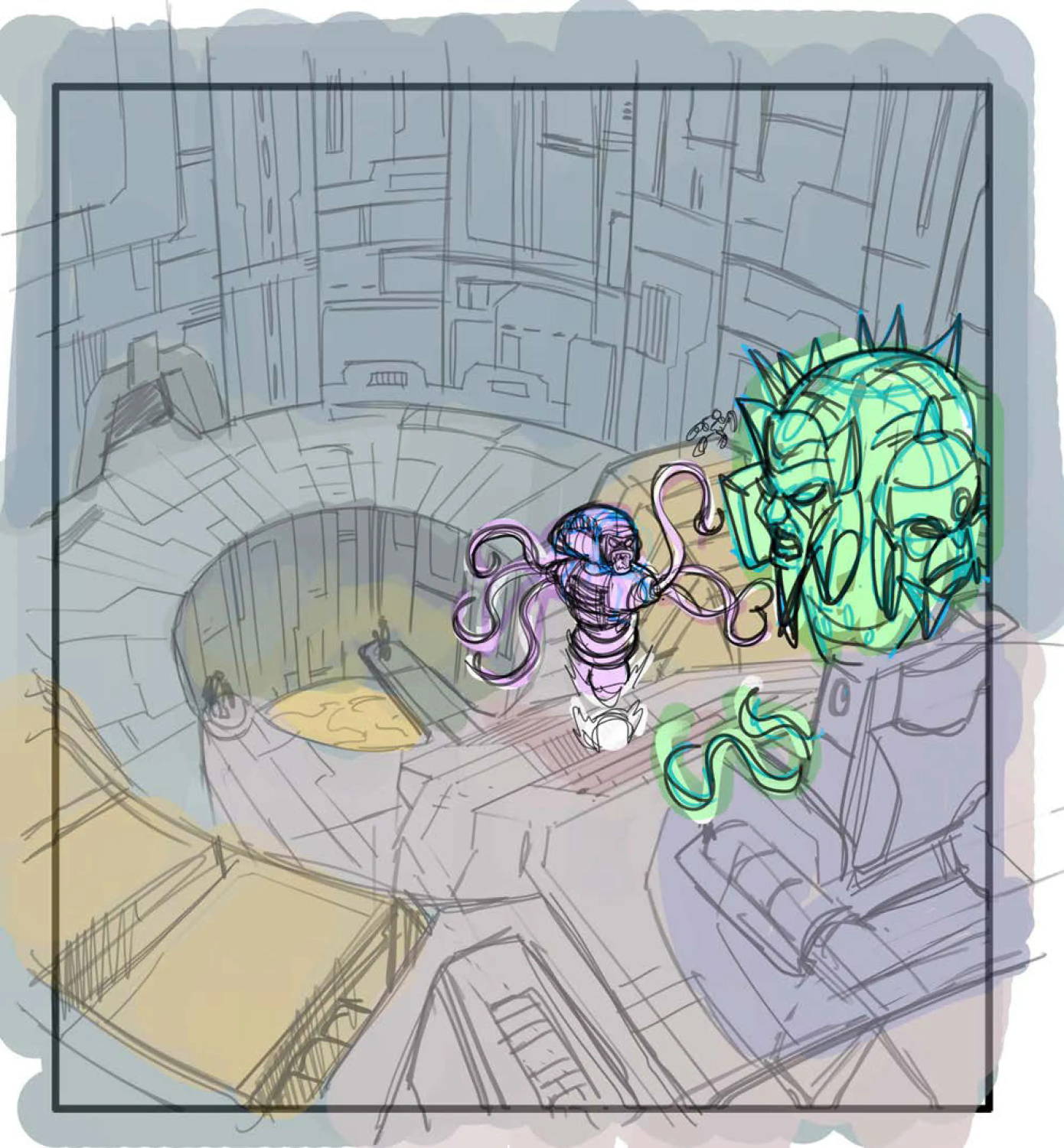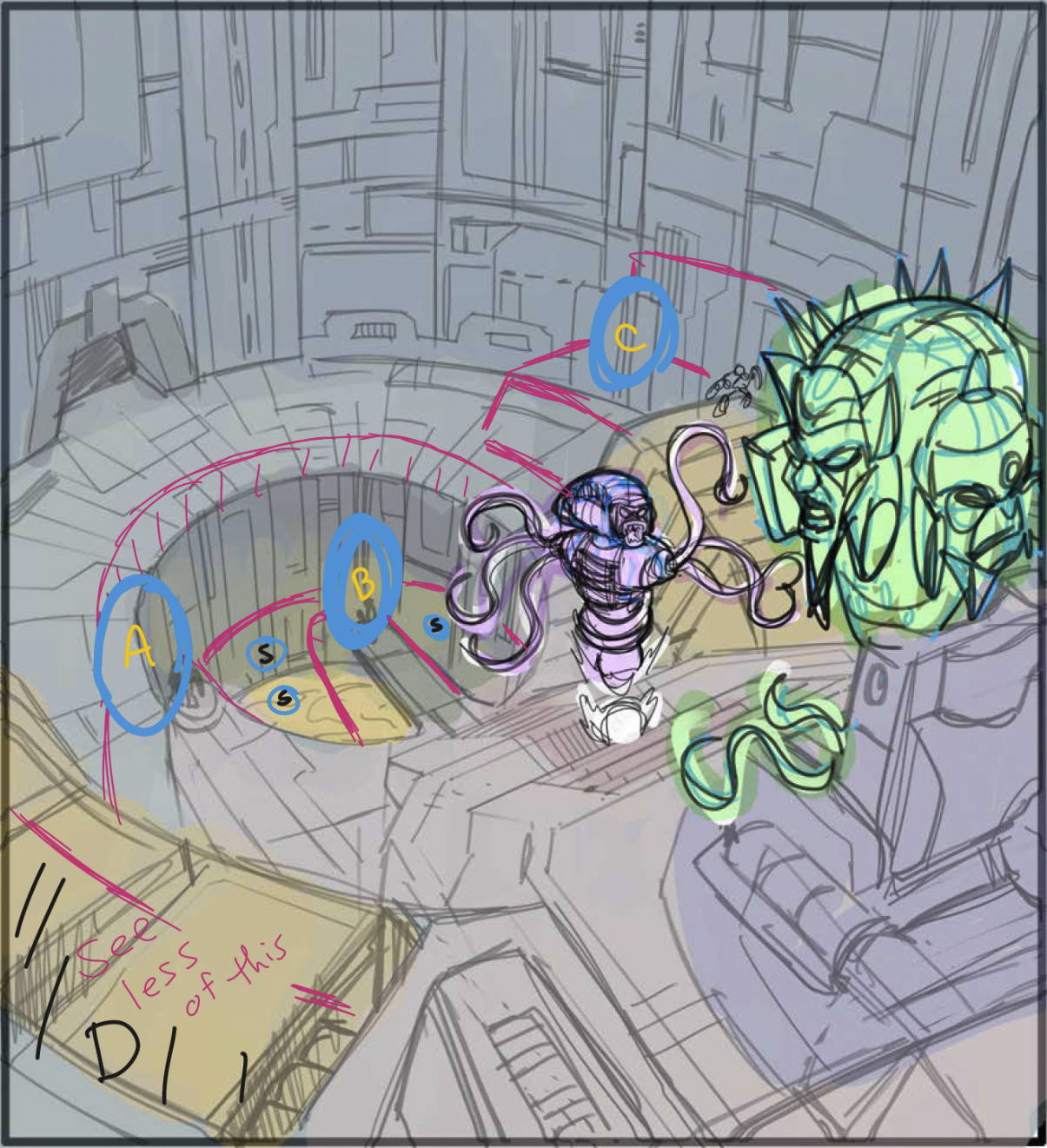 From the sketch we go to ink concept then rough color then to polished look.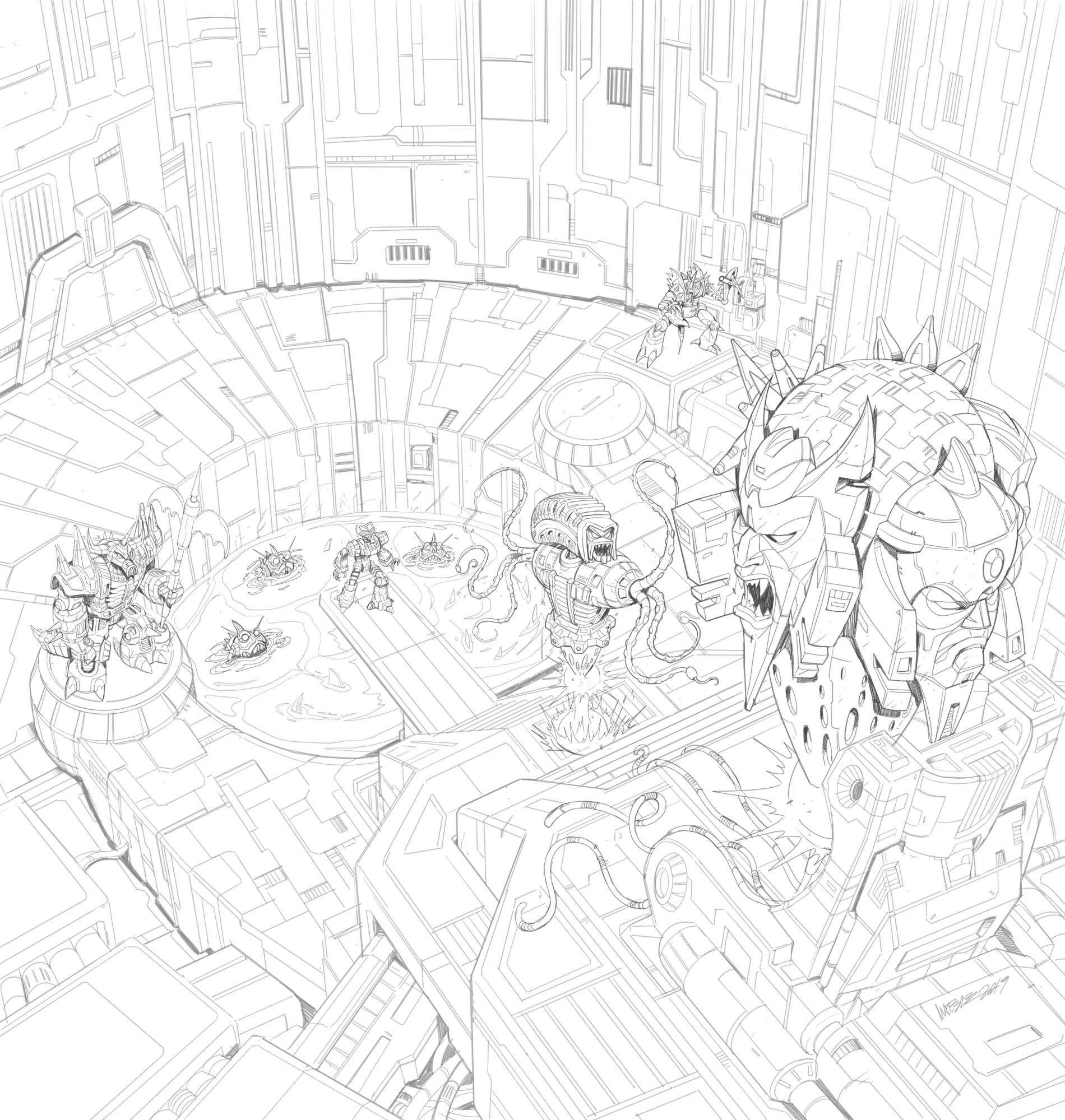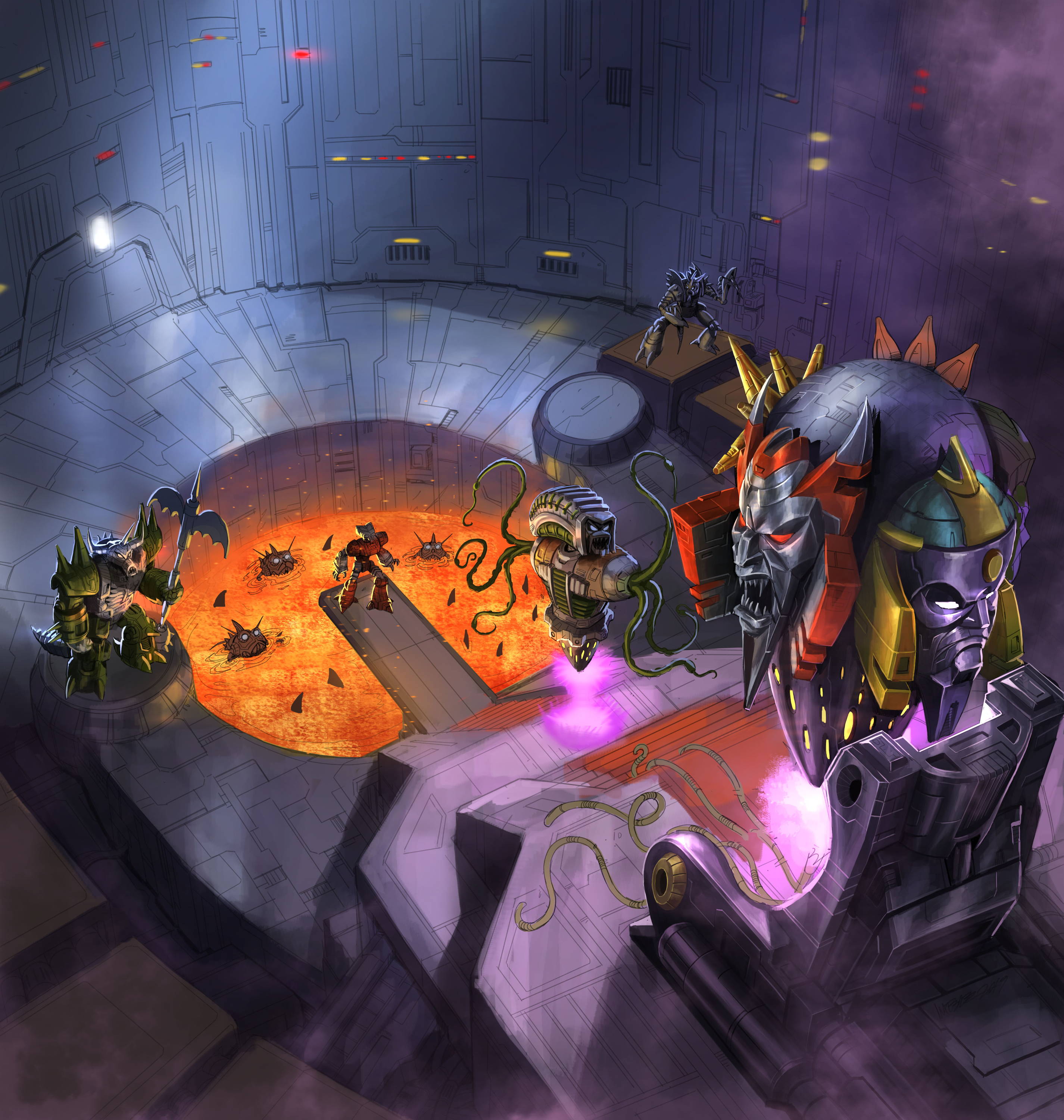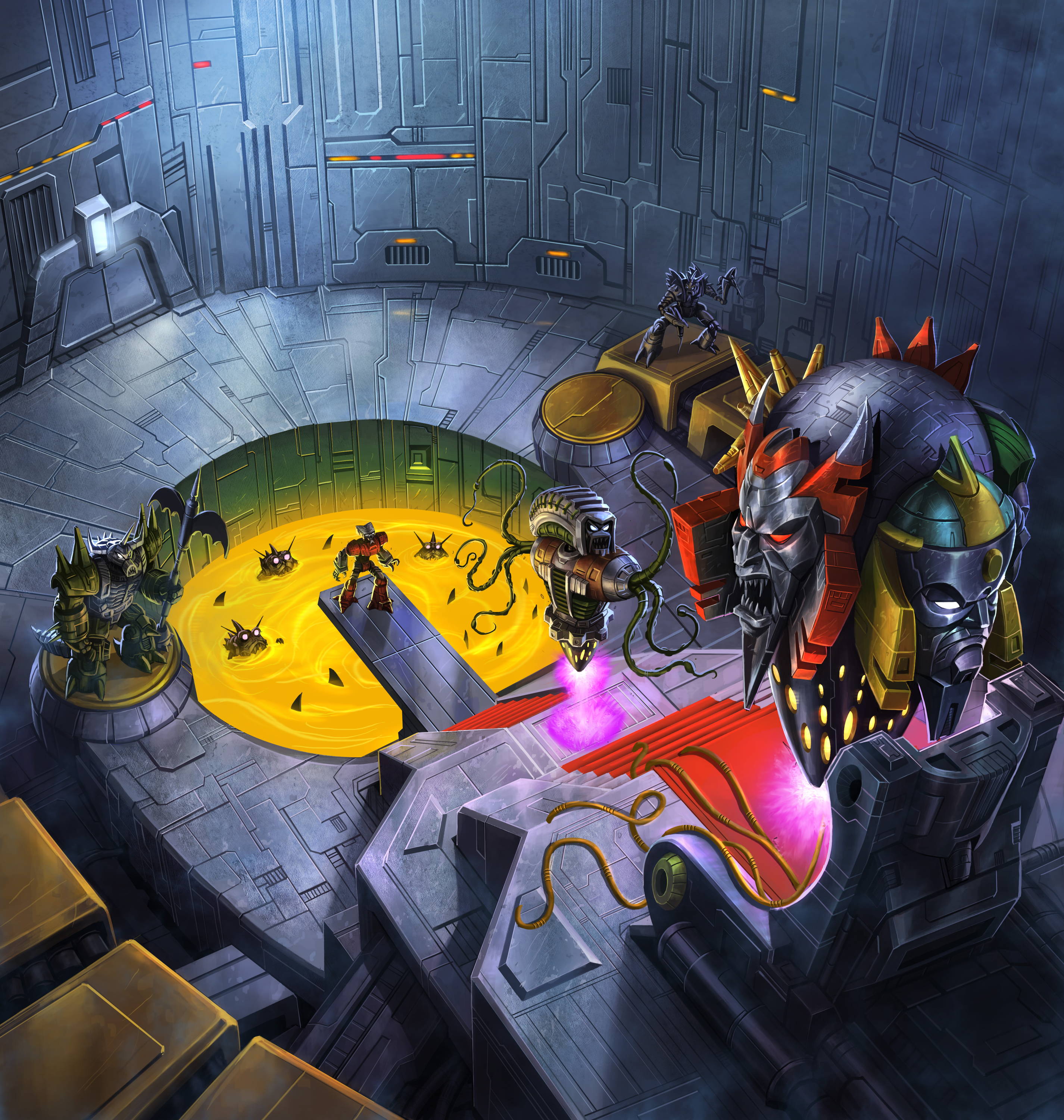 Q: Last question for both of you. It's actually two questions. What was your biggest challenge working on this pack? And what was your favorite thing about working on this pack?
 Mario: I would say the biggest challenge was trying to capture such an iconic scene in one freeze-frame. We had to think about how we were going to get it all in and we really wanted to get that perfect scene. We had to be flexible. We worked on changing the perspective and moving characters around to try and get the most of the one scene.
And I would say my favorite part of this whole process is truly just watching it come to life. From an idea to final production and then of course seeing and hearing the reactions of the fans. Honestly that's what makes me want to keep doing my best at my job.
AJ: For me, the biggest challenge was coming up with the correct size and shape without having a physical model. Trying to recreate this iconic scene without blowing out the budget was also tricky. I really wanted to create something that was structurally strong enough to take the figures out of the blisters and be able to pose the figures on fans' shelves. I love the way this turned out, and being able to bounce ideas back and forth with Mario really made this package the amazing piece of art that it turned out to be. Will this be displayed at my house? Verdict: Guilty.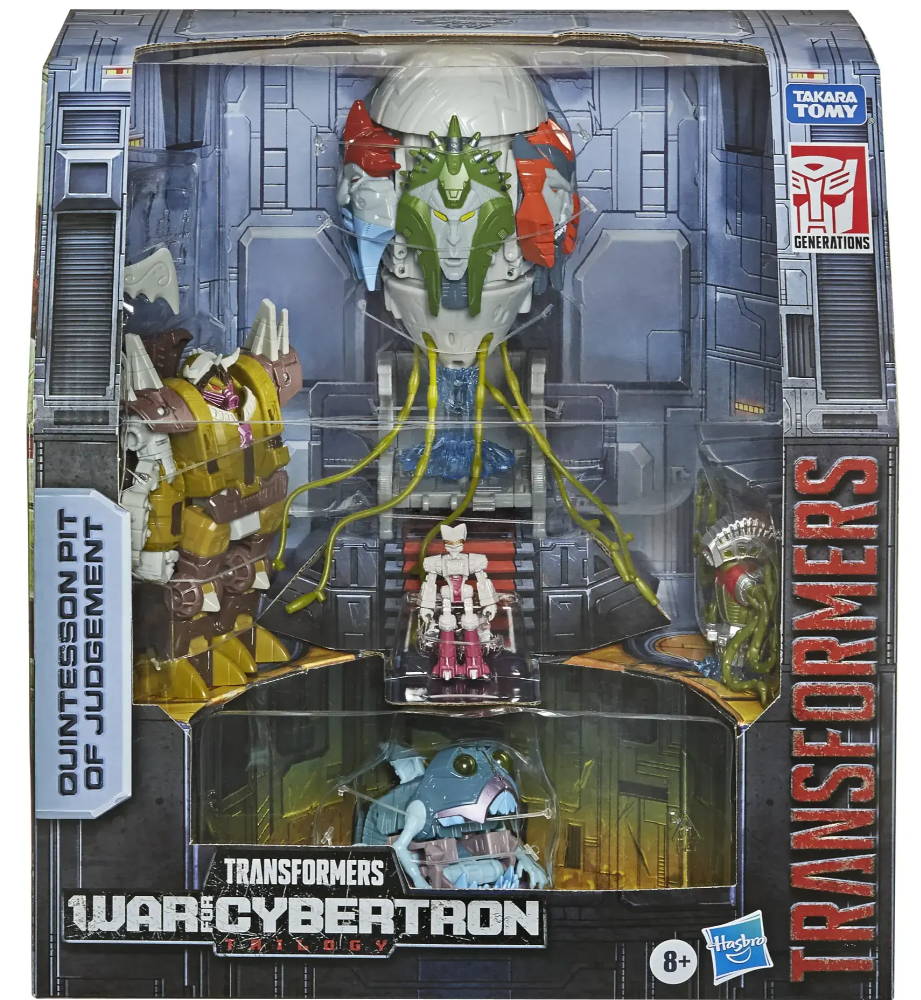 Pit of Judgement at the Cutting Table
---