#HasbroToyPic/Star Wars: A New Hope
Noserain takes us behind the scenes of his latest work and shares the inspiration behind his epic toy photography.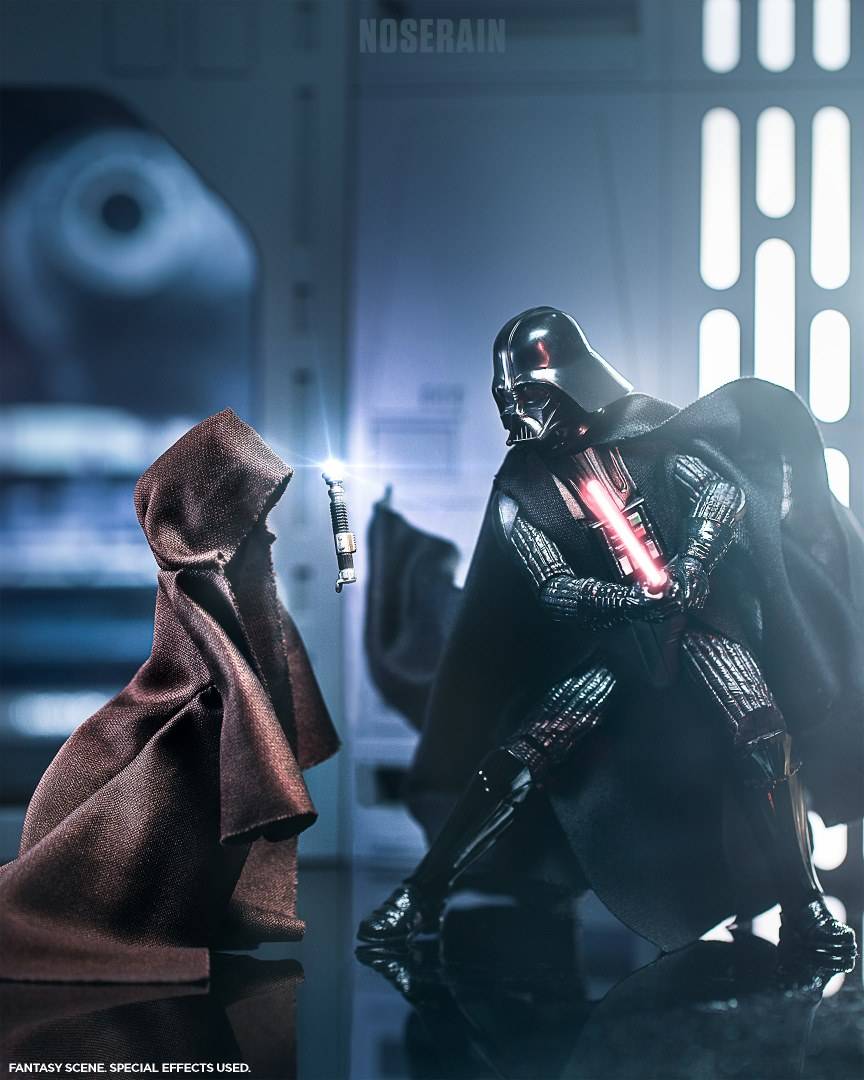 Your photos are amazing. How long have you been photographing toys? What was it that first drew you to this medium?
I really appreciate that, thank you! First off, I'm grateful for the opportunity to share a bit of my history and process with toy photography, and a bonus to be able to do it on a platform that celebrates the storied property that is Star Wars.
I technically started taking photos of toys in 2014. I knew about the medium before that, but I was more of the "outsider looking in" type–I guess I never really thought to try it out myself before then.
To give some context, I originally got into toys again from collecting out of nostalgia, but also in search of the toys that had great likeness to the characters I admired from comics, movies, anime, books, you name it. Inevitably, I stumbled on toy photography online. The moment that really drew me in and pushed me to action this time was discovering the kind of toy photography that used nature to stage the figure–it opened up a whole new world and made the medium much more approachable for me.

What does this assignment mean to you as a fan, especially now that the original Star Wars saga is reaching its conclusion?
It's an honor to be able to kick off this project by creating a toy photo representing the film that started all the madness. Growing up, I remember how much the toys had an influence on my love for the brand. For me, it was the bulkier Power of the Force 2 line that helped me continue the adventure off the screen. So, to be a part of a campaign that is leading up to the final installment of the sequel trilogy that will close out the Skywalker saga is a fun way to see it come around full circle.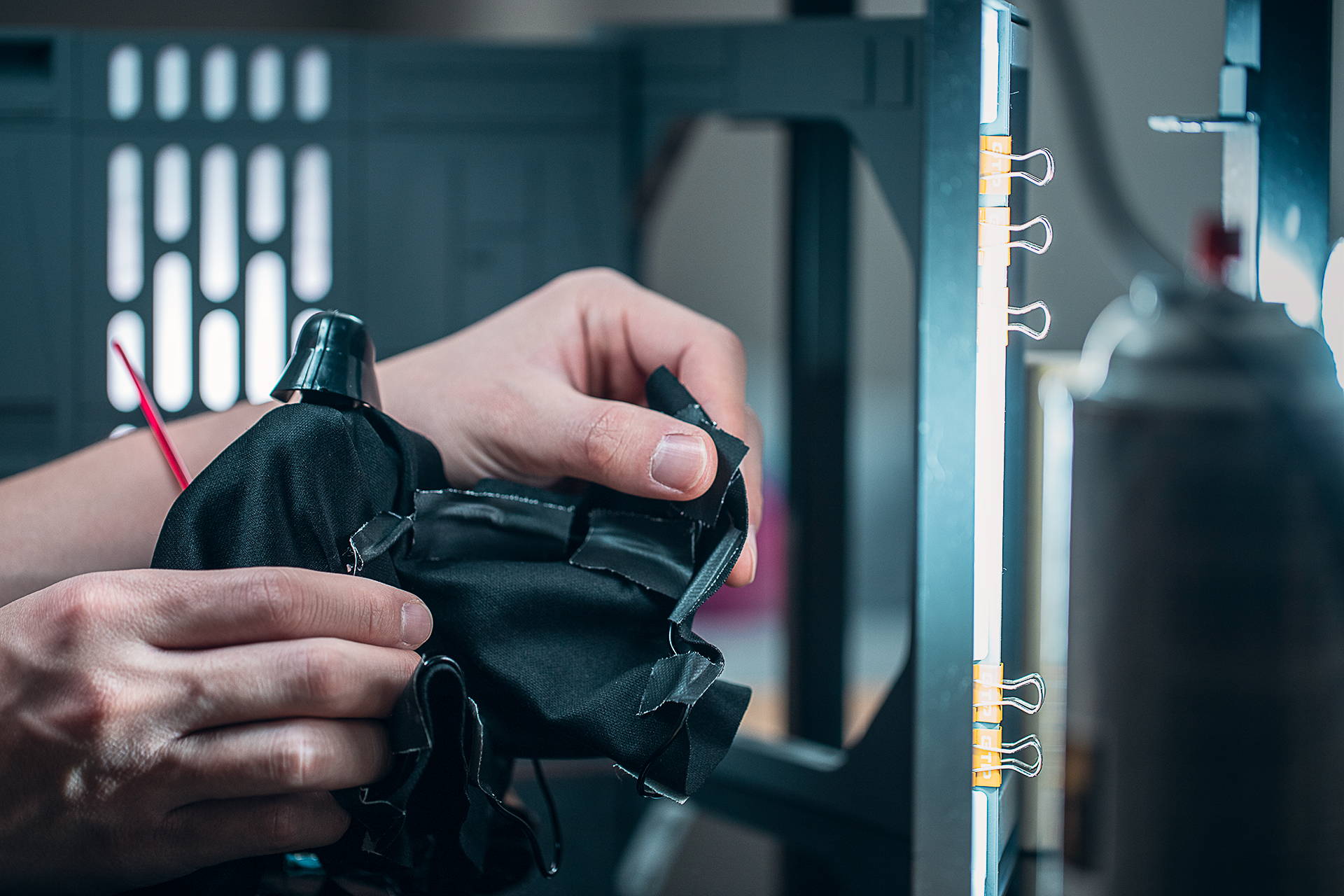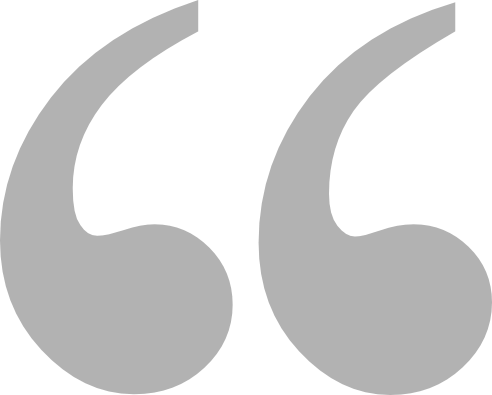 It's unthinkable. Why would Obi-Wan just surrender like that? You're left perplexed but in awe at the same time.
— Richee Chang "Noserain"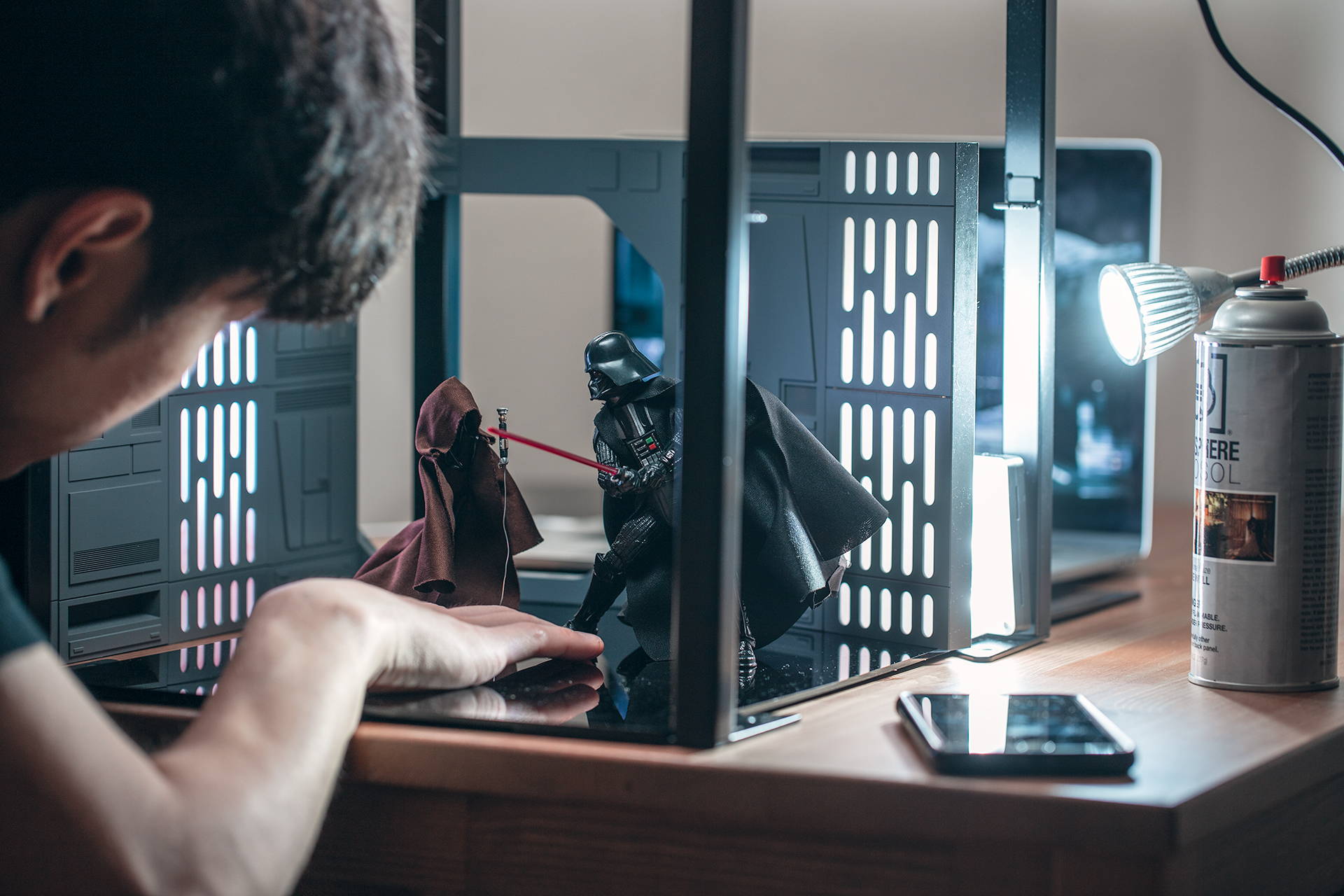 What are some of your favorite Star Wars memories, and how have they inspired your art?
As a kid, I used to lose all the lightsabers that came with my figures–I've learned to organize slightly better since then. I specifically remember being upset about losing the lightsaber of my favorite figure at the time–the Jedi Knight Luke Skywalker. As a replacement, I would take the stick of an eaten lollipop (cleaned, of course), and color in the green blade. It wasn't the best replacement, but it kept my imagination going. I think that's what Star Wars does–it makes me feel like I'm that kid again, launching my imagination into its different worlds and reintroducing me to an extensive cast of eccentric yet endearing characters. It's apparent that Star Wars and toys are no stranger to each other, so naturally, it's a popular subject for many toy photographers out there to photograph, including myself.
What's the inspiration behind this shot—why was it important for you to recreate this particular scene?
I watched Star Wars: A New Hope again and really set out to find any and all key battle scenes that were most iconic to the film. There wasn't one I could think of or see that resonated as much as the scene when Darth Vader and Obi-Wan Kenobi meet on the Death Star. If you remember watching this scene for the first time, it's obvious that these two characters have a history. And then watching it again years later after learning who Darth Vader is and the events that unfolded the last time they met, it recontextualizes the scene entirely.
I wanted to focus particularly on the moment when Darth Vader strikes Obi-Wan down into a pile of robes. It's an interesting scene because as the viewer, it's unthinkable. Why would Obi-Wan just surrender like that? Without a moment to lose, you see Vader unleash one sweeping slash and Obi-Wan vanishes into thin air. You're left perplexed, but in awe at the same time. I can't help but think that Vader felt the same way. You could see the uncertainty when he steps on the robes, but also fear– fear because he doesn't understand what just happened. Despite becoming so powerful through the dark side, his revenge is quickly stumped by Obi-Wan's greater knowledge of the force.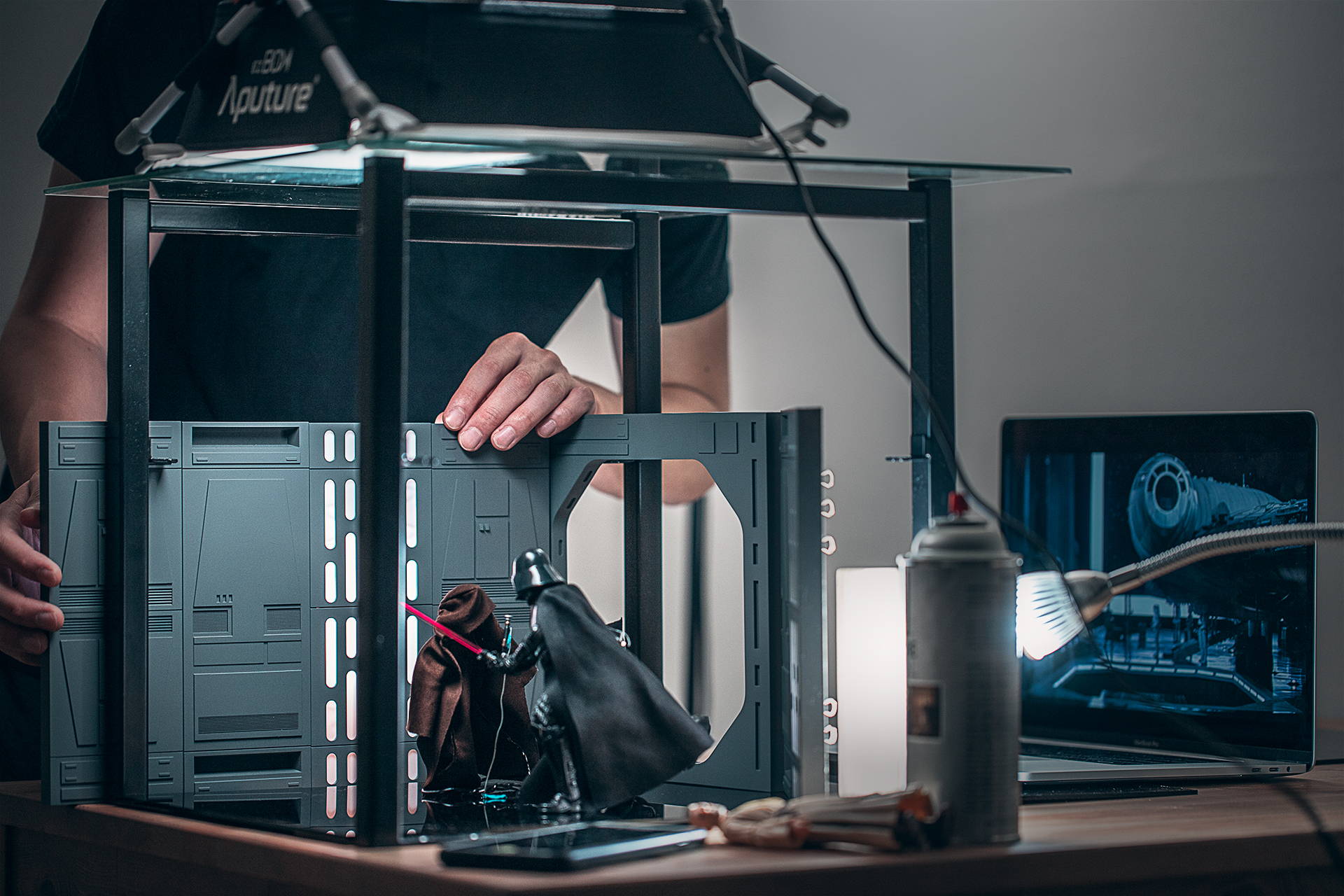 Walk us through the steps involved in recreating the scene.
For an iconic scene like this one, I found it important to pay attention to the setting that the figures will be photographed in. It doesn't have to be exact, but it should be familiar enough to not distract viewers from the main subject of the photo, which are the figures and the story I'm trying to tell through them. When thinking about setting up a diorama for my photo, I don't always have what I want for it and it can be tricky to find exactly what I'm looking for at times. Thankfully, my friends over at GTP Toys create some amazing SPACEWALLS for shots like this, so I used a few to build out the backdrop in my photo. In addition to the walls, I decided to pull up an image of Docking Bay 327 on my laptop screen as an additional piece for the background–this creates more depth in my photo and gives the illusion that the set feels larger than it actually is.
Once I finished setting up the diorama, I began posing the figures. I try to take my time with this step because I believe it's one of the most important parts of the entire process–a poorly posed figure can make or break a photo, so I try to go for a believable pose; something that looks natural. In my shot, I wanted to capture Darth Vader at the end of his swing. I taped a few wires to his cape so that I could articulate it in a way that made the swing a bit more dynamic. After I felt good about how Vader was posed and how his cape was looking, I focused on Obi-Wan's Jedi robe. I used a wire and bent it into shape to hold the robe. It took a bit of time to get it to feel as if it was in the state of falling to the floor, but once I was happy with it, I moved on to the lightsaber. Again, I used a piece of wire, and some blue sticky tack, to suspend the lightsaber in the air. I usually do this if I want to have one of my figures flying or jumping, or if I want an object to float. I take out the wire in post-editing using Photoshop.
Now that the figures and the set are in place, and I feel good about how it all looks compositionally in my camera, I move on to lighting. Lighting can be tricky, so most of the time, I start with what I think will look good, but it really is trial and error most of the time. Because the environments of my shots always change, I have to think about how the light is affecting the surrounding figures as well. Most of all, I want to focus on how my figures are being lit because ultimately, they are the focus of my shot. For this specific setting, I was able to work with the Space Wall that can be lit through the back to illuminate behind Vader. This helps give contrast to Vader's silhouette and helps him stand out from the background. Additionally, I'm considering how the light in the Death Star impacts the lighting in my shot. For instance, in the Death Star, the lights come from the ceiling and parts of the wall, as mentioned before. I took my light source and placed it on a glass surface over my figures to replicate the Death Star ceiling lights. Most of the time, the decision on where my light goes will depend on what makes sense in the that specific location.
After I place my lights, I take the shot, and I continue to take photos with some variation so that I have options to choose from. At this time, if I want to add atmosphere to my shots, I'll use a product called Atmosphere Aerosol, which is essentially fog in a can.
Once I feel like I have enough options and the shot I was going for, I'll upload the photos to my computer and start the post-editing process. Here, I'll use Adobe Lightroom to color grade and adjust highlights and exposure for a solid foundation for my edit. I move into Photoshop to include a lightsaber effect for Vader's lightsaber and a light effect on Obi-Wan's lightsaber to imply that it has just retracted. Like I stated before, I'll use Photoshop to remove any wires I've included in the photo, and any dust or particles that I feel are distracting. All in all, I think my ultimate goal with this photo was to pay homage to this monumental scene in the film while at the same time, finding a unique angle to portray this moment using toy photography.
What are you hoping to evoke with your work?
I think I want people to see that hobbies and passions come in all different shapes and sizes. If you're passionate about something, do it and see where it will take you. Toy photography is an incredible creative outlet for me and I can't really imagine what my life would be like without it right now. I think at the end of the day, if my work can resonate with people on some kind of human level, despite the subject of my photos being toys, I think that's pretty awesome.
Many thanks so Richee Chang for sharing his passion and insights.
This is Part 1 of an 8-part #HasbroToyPic/Star Wars series covering the epic battles of the Star Wars saga.