#HASBROTOYPIC/STAR WARS: The Empire Strikes Back
Behind the Scenes with WorkMoreOrLess
Great shot! What first drew you to this medium?
Thank you very much - that means a lot! Over the past 15+ years, I have been working professionally as a designer, illustrator and animator. Photography was a creative discipline I didn't really participate in until the end of 2015, which was around the release of Star Wars: The Force Awakens. At the time I began to notice toy photos pop up on my instagram feed and it enticed me to give it a try. It didn't take long before I was hooked!
What does this assignment mean to you as a fan, especially now that the original Star Wars saga is reaching its conclusion?
I'm a huge Star Wars fan, and it is an incredible honor to be involved in this toy photography campaign. It's been fun to reflect on the last several decades of Star Wars stories via my photography. That said, I'm anxiously awaiting The Rise of Skywalker and am very excited for other Star Wars stories coming in the future!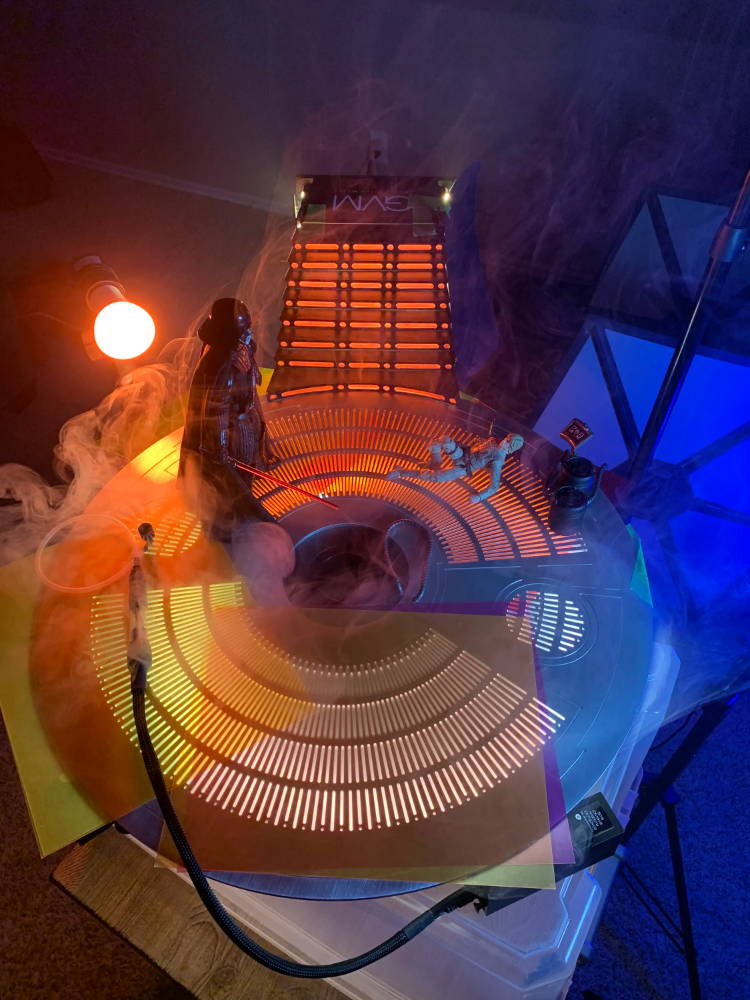 What are some of your favorite Star Wars memories, and how have they inspired your art?
I love how the Star Wars saga spans multiple generations and encourages both young and old fans to seek out adventure. I have great memories of playing with Star Wars figurines and toys as a child -  and I've loved engaging in that same imaginative play with my children with vintage and new toys alike.  The overall enjoyment and love for the saga and its broad fandom is what inspires my work.
What's the inspiration behind this shot—why was it important for you to recreate this particular scene?
Star Wars: The Empire Strikes Back is one of my favorite films from the original trilogy, so I was excited to be assigned this film for this collaboration. As far as battles go, this duel between Darth Vader and Luke Skywalker is about as iconic as it gets. I also felt that the colorful art direction and visual aesthetic would translate well for toy photography.

This particular scene reminds me that every hero's journey has not only success, but also failures. It is in those moments that we learn from our mistakes, reevaluate, and grow towards success. As Master Yoda says, "The greatest teacher, failure is." 
~ Jason Yang

A very, very subtle Easter egg made it into my shot! A lot of times when I am building out a scene, I'll look around to see what is available to act as props or background elements. I needed something large to reflect the blue light, so I placed the 6" scale Black Series First Order Tie Fighter in the background, which worked perfectly! 
What do you hope fans will get from your work?
Toy Photography has unexpectedly evolved into a massively enjoyable creative outlet for me over the last few years. I recognize how important it is for everyone to have a personal hobby that is in line with their passions, and I hope that my work provides joy and excitement to those who see it.
Thanks so much for sharing ~ we think you nailed it! 
---
This is Part 2 of an 8-part #HasbroToyPic/Star Wars series covering the epic battles of the Star Wars saga. 
---